Does acupuncture work for fertility?
A new client recently came to me distraught and disappointed with the results of her acupuncture treatment.
"Acupuncture does not work!" she exclaimed.
She had been going for regular treatment for over 2 years.
By the time she came to me, she had poor cycle 'quality': her temperature ranges were too low for the cycle. And her luteal phase was too short. (The 2nd phase after ovulation that needs to be the right length for implantation of an embryo to occur).
Each of these alone could stop her from getting pregnant, and when combined it is even worse.
I was surprised, but it led me to consider: was acupuncture really to blame?
Digging deeper, I discovered she had been using acupuncture treatment… and not much else.
No dietary or internal changes, no herbal medicine or lifestyle changes. Pretty much nothing else.
The acupuncture was just doing what it's meant to: circulating her blood and energy (Qi). 
The little that she had.
As with most fertility issues, she had a lack of Qi and Blood.
And she was simply not getting this nourishment. Acupuncture on its own cannot provide that as it doesn't deliver any type of physical matter to the body that will help build up missing resources – such as Qi or Blood.
I immediately put her on a correctional course with Herbal Medicine, and then started supporting this with gradual dietary and lifestyle changes — all in alignment with the results from her health diagnosis with me.
She tracked her cycles with BBT charting, and we soon started seeing her cycle correcting itself each month.
We're not done yet, but her changes are very positive so far, with better temperature ranges and a longer luteal phase. This instantly increases her chances of getting pregnant naturally or with IVF.
So is acupuncture ineffective for fertility?
It's rarely used as an isolated treatment in China for fertility problems.
In fact, Herbal Medicine is the leading treatment for fertility support in China. And it's been successfully used this way for over 1500 years.
But, used correctly, TOGETHER with prescribed Herbal Medicine, dietary, and lifestyle changes, acupuncture is still a helpful tool.
As with any tool: it's only right if used for the right situation.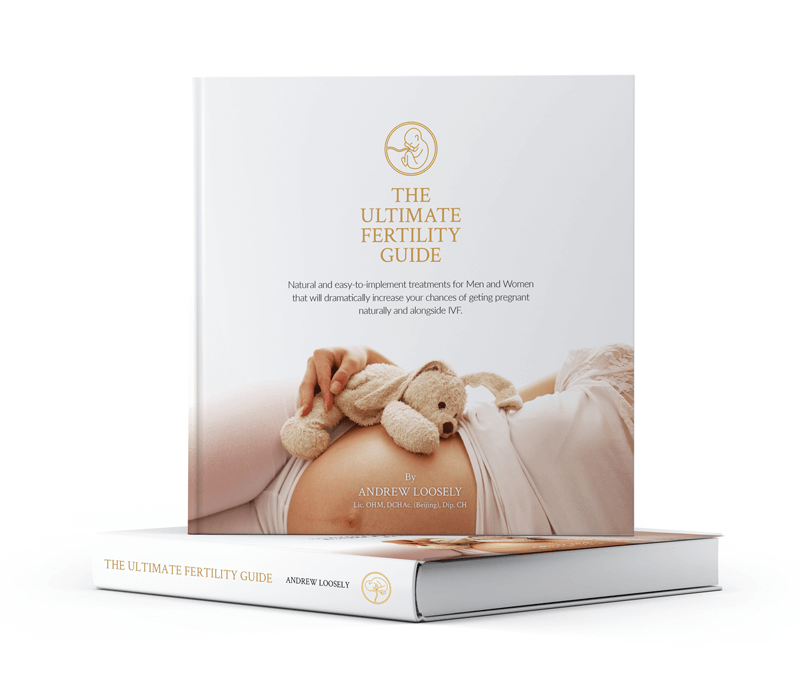 GRAB YOUR FREE E-COPY OF MY #1 BOOK (3rd Edition)
THE ULTIMATE FERTILITY GUIDE
Claim your free guide to discover the 3 steps that could dramatically speed up your journey to having your baby!
Unsubscribe any time. Your privacy is important to us and we never share your details. Once signed up you'll also receive helpful fertility tips emails, to give you expert support on your journey. Here's our
Privacy Policy
.
ANDREW LOOSELY
The Natural Fertility Expert
© 2021 Andrew Loosely Clinics Ltd, t/a Natural Fertility Expert
UK Company Number: 10210937
A Private Limited Company registered in England and Wales