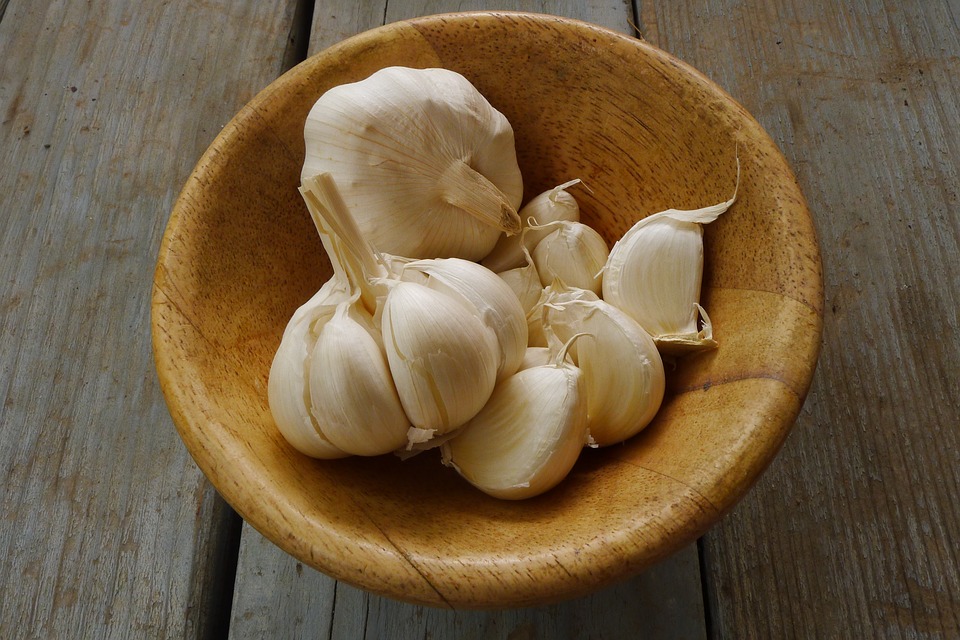 Garlic has some great health benefits – but only if it's prepared properly!
Garlic has a strong antiviral and antibacterial quality that can help prevent and treat coughs, colds, and influenza – along with some fertility health benefits too. 
One of the key components that helps with this is a powerful antioxidant called Allicin.
Allicin is known to reduce inflammation as well as increase blood flow to the sexual organs and protect sperm (and possibly eggs) from damage. 
Crushing garlic cloves releases the enzymes Alliin and Alliinase, which triggers the creation of the sulphur compound Allicin.
In a 2001 study it was discovered that heating garlic immediately after crushing it destroys the enzyme Alliinase. 
Without the Alliinase garlic can't produce the Allicin, and the health benefits are not available.
But – if you crush the cloves and leave them for 10 minutes before heating, the Alliinase is able to create lots of Allicin, which is able to withstand the heat of cooking.
Garlic has so many positive properties that it would be a shame to not to wait those crucial 10 minutes after crushing it.
Try to build garlic into your diet at least 3-4 times per week as a general rule as long as you don't have any of the symptoms listed in the cautions section below.
In China, garlic is typically cooked with meat and fish as it protects against infectious organisms that cause digestive issues. 
Vitamin B1: Thiamin is involved in the production of energy through the breakdown of sugars and carbohydrates. This is important for cellular health, which may also influence the health and energy of sperm and egg cells. Vitamin B1 helps turn starch and sugar into usable energy that your body needs and plays an important role in nerve transmission. It's also important for energy support during pregnancy. Muscular and nerve health are also affected by Thiamin.
Vitamin B3: Niacin as with most other B vitamins is also involved in energy production within the mitochondria of your cells (the powerhouse of the cell). Pregnancy requires good levels of niacin, as does breast feeding. Adolescents also need sufficient sources. B3 is an important part of the entire Vitamin B complex, which should be adequate in your diet to support your general and fertility health.
Vitamin B6: Pyridoxine is involved in breaking many types of chemical bonds and is a component of many enzymes – which are involved in breaking down foods and substances, and also regulating steroid hormones.
B6 also helps in the production of neurotransmitters, which are the chemicals that allow brain and nerve cells to communicate – and this ensures that metabolic processes such as fat and protein metabolism happen properly. B6 is also a strong component of the immune system, which makes it vital to have in your diet.
Vitamin B9: Folate is essential for human growth and development and it encourages normal nerve and brain function. It's involved in the creation of DNA as well as building of proteins, and many other important functions including the healthy development of your baby's' spinal cord.
Folate has long been known for its protection against spina bifida, but many people don't realise that it's also important for their day-to-day health.
During pregnancy folate also supports the growth of the placenta and helps to prevent several types of birth defects, especially those of the brain and spine. Folate is an important nutrient for general and fertility health.
Vitamin A: Is necessary for the growth and repair of many body cells including bones, teeth, collagen and cartilage. It's also involved in cell differentiation where cells become specific types of cells such as a liver cell or a blood cell. This is vital for the development of your healthy baby, and so Vitamin A should be sufficient in your diet in a food form. Supplementation does not offer balanced forms of Vitamin A.
Vitamin C: Vitamin C helps to repair and regenerate tissues, help with the absorption of iron, prevent scurvy, and decrease total and LDL ("bad") cholesterol and triglycerides.
Research shows that vitamin C protects against free radicals due to its antioxidant nature. It also helps neutralize the effects of nitrites (a group of commonly used preservatives), which many people come into contact with daily.
For fertility health vitamin C is important in the process of absorption and also in its ability to support the luteal phase of the menstrual cycle.
Supplement forms of vitamin C are usually inferior compared to natural sources and my advice is to obtain this nutrient from your diet daily through fresh vegetables and fruit.
Vitamin K: Vitamin K is an essential nutrient necessary for responding to injuries as it regulates normal blood clotting. By assisting the transport of calcium throughout the body Vitamin K may also be helpful for bone health. It may reduce bone loss, and decrease the risk of bone fractures. It also may help to prevent calcification of arteries and other soft tissue.
Vitamin K can be particularly useful if you suffer from heavy and/or painful periods as it can help slow down the blood flow and reduce cramping.
Manganese: is a naturally occurring mineral which aids in the formation of connective tissue, bones, blood-clotting factors, and sex hormones. It is a powerful antioxidant which neutralises the damaging particles of free radicals. It plays a role in fat and carbohydrate metabolism, calcium absorption, and blood sugar regulation.
Selenium: is one component of antioxidant enzymes and is also used by the body to help support thyroid health, particularly conversion of thyroid hormones from one to the other. This can help support your thyroid health, which is fundamental for fertility health and pregnancy.
Potassium:  Is an electrolyte which counteracts the effects of sodium, helping to maintain consistent blood pressure levels – another important element for pregnancy. Many processes in the body rely on a small electric current to function, and electrolytes provide this current.
Potassium is required to keep the brain, heart, kidneys, muscle tissue, and other important organs in good condition. Its health benefits are; boosting the immune system, Improving bone health, improving muscle strength, blood sugar regulation, blood pressure regulation, maintaining optimal nerve and brain function.
Phosphorus: Is an element that plays an important role in how the body uses carbohydrates and fats. It is also needed for the body to make protein for the growth, maintenance, and repair of cells and tissues. It is essential in our diet and particularly in children when growth and development occurs.
The health benefits of Phosphorus are: improved digestion;  formation of healthy bone; hormone balance; kidney health; elimination of muscle weakness and fatigue; muscle  maintenance; and repair of cells and tissues.
Iron: Is a mineral that the body uses to carry oxygen in the blood and plays a key role in strengthening the immune system and helps regulate body temperature.
Calcium: Calcium is needed to build and maintain strong bones, support heart health, and for optimal function of the muscles and nerves. It is also required alongside Vitamin D to aid in its use throughout the body.
Copper: Copper is essential for overall health and is involved in many processes in the body. It cannot be produced by the body and must therefore be consumed through food.
Combined with iron it enables the body to form red blood cells, which carry oxygen around the body as well as helping with wound healing. Copper helps maintain healthy bones, blood vessels, nerves, and immune function, and it contributes to iron absorption.
CHINESE FERTILITY MEDICINE USE IT TO:
Treat Qi Stagnation

Treat Dampness

Treat Yang Deficiency

Eliminate Toxins

QI STAGNATION:
Qi (pronounced chee) is the Chinese Fertility Medicine word used to describe energy, life force, or vitality inside and outside the body.
Qi must always flow efficiently through the body to properly support the thousands of functions required of the organs and systems every day.
If the flow of Qi slows down it is regarded as being a Qi Stagnation pattern.
This typically results in a variety of symptoms that can lead to stress, mood changes, hormonal imbalance, and other functional symptoms reflecting a lack of circulation in the body.
All of these have the ability to affect your fertility health as the regulation and 'switching' of hormones, fluids, energy, blood require a smooth and constant flow of energy to work properly.
Click here to read more about Qi Stagnation
DAMPNESS:
Dampness is the word used in Chinese Fertility Medicine to describe an overabundance of negative types of fluids that have accumulated in the body.
This includes: mucus, phlegm, or water accumulation (edema) that build up over time in different areas of the body.
A variety of fertility issues can arise from having too much Dampness including: immune disorders, fluid retention, circulatory issues, bacterial and fungal overgrowth, and other inflammatory diseases.
Reducing dampness can take some time, but the physical effects you receive will be worth it!
Click here to read more about Dampness:
YANG DEFICIENCY 
Yang Deficiency is the Chinese Fertility Medicine term used to describe a lack of activity, warmth, or metabolism within your body.
It basically indicates an under-activity of the body – often related to the adrenal function, or the Hypothalamic-Pituitary-Adrenal axis. This axis regulates hormone production and release, and is also involved in the regulation and production of energy and warmth.
Yang Deficiency often manifests as Thyroid issues, particularly Hypothyroidism and Hashimoto's Thyroiditis as both of these are caused by an under-active metabolism.
Click here to read more about Yang Deficiency
Garlic can help to support an internal warming, that can help towards overcoming the coldness.
Season available: spring, although this depends on the area its being grown
How it's typically cooked:  Garlic can be added to most dishes but it can also be roasted whole. Just cut the top stem off, add a little olive oil and put it in the oven for 30-40 minutes at a low temperature. 
Cautions: Garlic has a hot nature and is not recommended for people with very weak digestion, ulcers, or heat symptoms. If you have blood clotting issues please be cautious with garlic too.
Disclaimer: https://naturalfertilityexpert.com/disclaimer/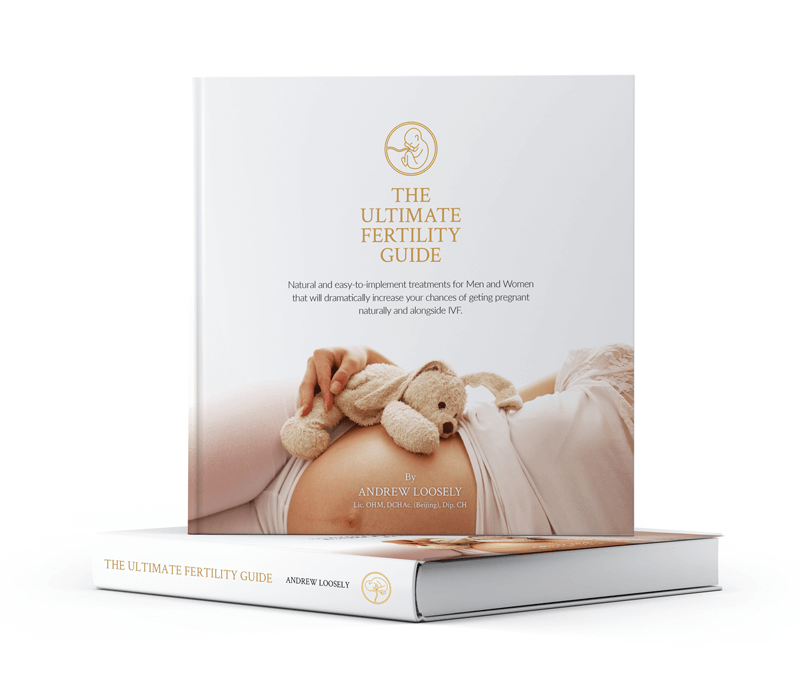 GRAB YOUR FREE E-COPY OF MY #1 BOOK (3rd Edition)
THE ULTIMATE FERTILITY GUIDE
Claim your free guide to discover the 3 steps that could dramatically speed up your journey to having your baby!
Unsubscribe any time. Your privacy is important to us and we never share your details. Once signed up you'll also receive helpful fertility tips emails, to give you expert support on your journey. Here's our Privacy Policy.
ANDREW LOOSELY
The Natural Fertility Expert
Fertility at 40+
© 1998-2023 Andrew Loosely Clinics Ltd - United Kingdom